300 Lunches!
Monday, November 14th, 2011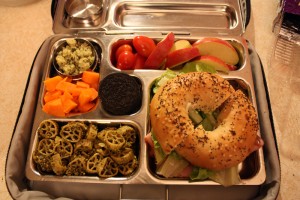 Today I celebrate the posting of my 300th lunch. I think I need to have a party of some sort. Dedication, I suppose I have the two cutest boys on earth to thank for that, and they need to eat. Nothing makes me feel better than filling their bellies up for mid-day meal with the goodness I am able to pour into those little lunchboxes. PS that doesn't mean I've only made 300 lunches.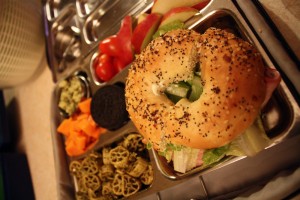 I should probably have something spectacular to share for the 300th post, but instead I decided I would just make this a normal lunch experience. Pesto that we made from scratch with basil from our very own garden on some wagon wheel noodles, a bagelwich or bagel sandwich on an everything bagel with ham and lettuce and fresh tomatoes. A fake Oreo Cookie (Newman makes them), a sliced apple (pink lady variety), some diced up and pan fried carrots from our garden, a bit of couscous and some cherry tomatoes.
Happy 300th Cold School Lunch my sweet boys. xo
If you'd like to know more about the lunchboxes featured in these pictures and posts, then you should take a look at
PlanetBox Lunchboxes
.