Colorful Cold Lunch
Wednesday, October 5th, 2011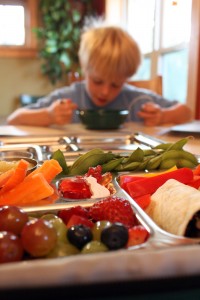 A little breakfast and a look ahead to lunch. This time during our morning is some of my favorite time during the entire day.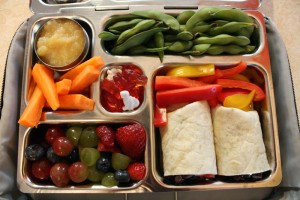 That is a colorful lunch! The applesauce is homemade, the carrots are homegrown the rest comes from close to home. The fruit salad is all organic berries/grapes from the Good Food Store. Red and Green grapes, strawberries and blueberries, red and yellow organic bell peppers, a burrito with organic black beans, olives and tomatoes right out of our garden, & edamame wraps up the bulk of the meal. The center contains vitamins to stay healthy and Annie's fruit bunnies are the treat for today. Enjoy!
If you'd like to know more about the lunchboxes featured in these pictures and posts, then you should take a look at
PlanetBox Lunchboxes
.