Turkey on Multigrain, 1/2 Banana and More
Thursday, November 25th, 2010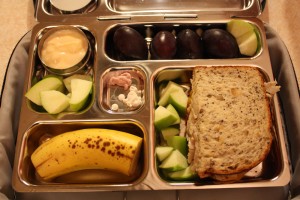 Today we've got a turkey sandwich on multigrain bread with cheddar cheese and a bit of mayo, a 1/2 of a banana (Mama cannot STAND bananas - but my boys LOVE them), diced organic apples, dino vitamins, a dollop of lemon soy yogurt and some backyard plums (from a friend's backyard). Looks pretty darn good to me - healthy too!
To wash it all down we'll have some organic grape juice today.
If you'd like to know more about the lunchboxes featured in these pictures and posts, then you should take a look at
PlanetBox Lunchboxes
.