Turkey Sandwich with Lettuce, Orange Slices and More
Tuesday, December 29th, 2009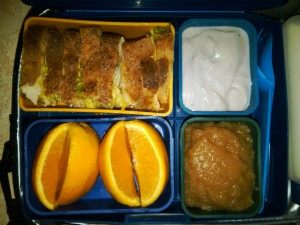 Today we've got a delicious Applegate Roasted Turkey Sandwich with mayo, lettuce and cheese, a side of organic orange slices, cherry soy yogurt and a side of blackberry applesauce. To drink some chocolate rice milk. Mmmm.
If you'd like to know more about the lunchboxes featured in these pictures and posts, then you should take a look at
PlanetBox Lunchboxes
.