Pasta, Sandwich on Homemade Bread and More
Sunday, July 11th, 2010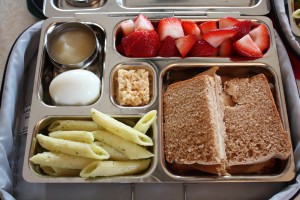 A turkey and cheese sandwich on homemade whole wheat bread. Mmmm! Mama got a bread machine for her birthday, so we never have to buy bread again! Unless of course we want to. We've also got a hard-boiled homegrown hen egg, some pesto pasta, a dollop of organic applesauce, some organic strawberries and a rice krispie treat. Yummy! To drink we'll have some organic juice. Delicious!
If you'd like to know more about the lunchboxes featured in these pictures and posts, then you should take a look at
PlanetBox Lunchboxes
.