Peanut Butter and Jelly Bites and More
Monday, March 1st, 2010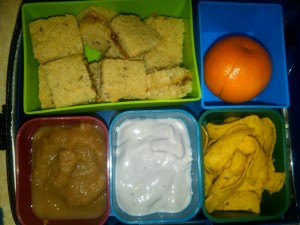 Peanut Butter and Jelly Bites on Wheat Montana Flax Seed Bread, a clementine (you'll be seeing a lot of those for a bit), strawberry applesauce, cherry soy yogurt, and a handful of Frito's (our unhealthy portion for the day). To drink we'll have some water with Lemon Oil. Yums!
If you'd like to know more about the lunchboxes featured in these pictures and posts, then you should take a look at
PlanetBox Lunchboxes
.