Halloween Lunch
Thursday, November 1st, 2012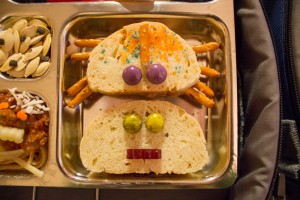 I had every intention of getting this posted yesterday. Next year I'll be better about posting lunches on time, maybe.
We've been making homemade bread for a few weeks now and we are really loving it, the entire process is pretty magical. It is always so mystifying to me that bread comes from the most simple ingredients.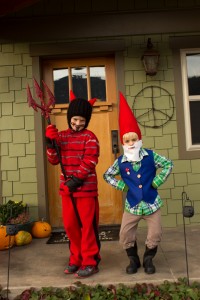 Here they are, in all of their glory! Oh and one more bit about the bread - we aren't using our bread machine anymore, it can't bake bread like we can if we do it on our own. The book we fell in love with is this one.
The Waldorf Book of Breads
List Price: $14.95
Sale Price: $1.99
You save: $12.96 (87%)
Eligible for free shipping!
Availability: Usually ships in 1-2 business days
9 new from $1.99 9 used from $10.21




Description
Like the bestselling Waldorf Kindergarten Snack Book and the Waldorf School Book of Soups, this newest book in the series provides yet another a rich resource for spending time in the kitchen with young children―this time baking bread. What child doesn't like to feel and knead bread dough, watch it rise, and then taste it fresh from the oven? Not only is such hands-on sensory experience fun for everyone, it is also invaluable to young children as they continue to incarnate into our world. These recipes have been handed down by grandmothers, mothers, aunts, and friends. They are easy to follow and encourage the baker, young and older alike, to use the best possible ingredients, making bread once again the healthy "staff of life" it once was. The Waldorf Book of Breads includes tasty breads for the daily table and specialty breads for the seasons and special occasions. And, like the Waldorf snack book and the book of soups, The Waldorf Book of Breads is spiral-bound, so it lies flat to make life in the kitchen a little easier. Artist Jo Valens once again provides delightful illustrations to accompany the many recipes for delicious breads.
Reviews
---
Beware, you're about to be scared out of your gourd.
Did you have tiny bats in your yogurt today?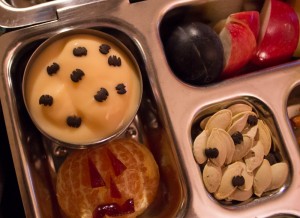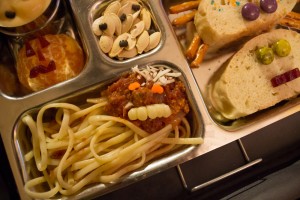 Or a spaghetti monster?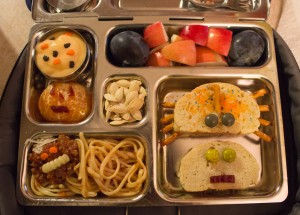 Spooky right? Plums from our dear friend Shellie, apples from our very own backyard tree, orange yogurt with bats (and this lunch had pumpkins too), a clementine with a jack-o-lantern face (fashioned from a fruit leather), freshly roasted pumpkin seeds, spaghetti monster with corn teeth (from Benson's farm), a spider peanut butter and jelly sandwich and a ghostly blob pb&j (both with chocolate drop eyes), and a lot of spooky love made the lunches for this spooky day.
We hope you had a delightful Halloween, we sure did.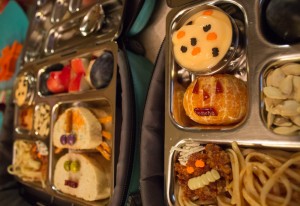 If you'd like to know more about the lunchboxes featured in these pictures and posts, then you should take a look at
PlanetBox Lunchboxes
.