Turkey Bun with Lettuce, Homegrown Peas and More
Friday, September 17th, 2010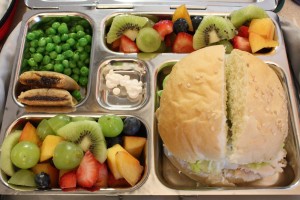 Locally made bun filled with Applegate Turkey, Tillamook Cheddar Cheese and some Lettuce. Fruit Salad (Kiwi, grapes, strawberries, blueberries, nectarines, and cantaloupe (Dixon Melon)), organic fig cookies, and peas straight from our backyard - planted by Simon himself - are our sides for today. Don't forget to take your vitamins and some refreshing water to enjoy make up the tasty meal for today!
If you'd like to know more about the lunchboxes featured in these pictures and posts, then you should take a look at
PlanetBox Lunchboxes
.